Details
Date:
September 13
Time:
06:00 pm - 09:00 pm
Click to Register:
Click to Register
Venue
Zephyr Grill & Bar Livermore
1736 First Street
Livermore, CA, United States, 94550
Join us Wednesday, September 13th @ 6PM for a wine pairing dinner, celebrating the Carmenere wines of, Cuda Ridge Wines!

Cuda Ridge Wines is the producer of Small Lot, Handcrafted, Bordeaux style wines. Cuda Ridge Wines started producing Carménère with the 2018 vintage and it is the first, and only, Livermore Valley varietal Carménère. We are delighted to team up with Zephyr Grill and Bar for this unique, one of a kind, wine pairing to kick off our 2021 Release of three (3) vineyard designated Carménère's.
Cuda Ridge began our Carménère project in 2014 with the planting of the grapes from Insel Family Vineyard with the first released vintage in 2018. Nine years later, Cuda Ridge has three vineyard designated Carménère's. Last year, we introduced our Little Dog Vineyard Carménère and this year we will be introducing our Casa de Vinas Carménère. We are excited to be kicking off our 2021 Carménère Releases, including the new Casa de Vinas release, with a wine dinner at Zephyr Grill and Bar in Livermore. Chef Jesus has paired the three new 2021 vineyard designated Carménère's, along with the 2020 Insel Family Vineyard, for a truly unique wine experience.
Throughout the night, Winemaker Larry Dino, will be discussing the history of Carménère and what makes each of these Carménère vineyards unique.
FOR AN EXCLUSIVE 5-COURSE DINNER WITH A MENU CREATED BY
EXECUTIVE CHEF JESUS MARTINEZ.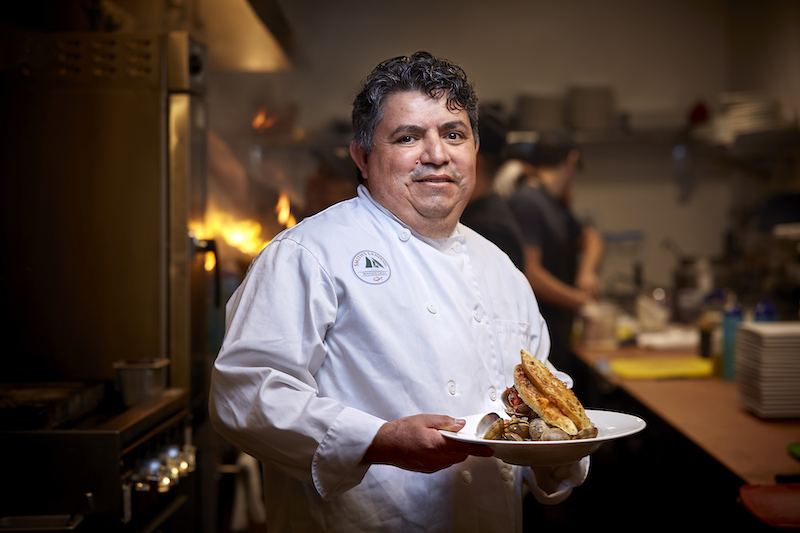 Chef Jesus graduated from culinary school in Mexico and has been in the restaurant industry for 23 years. He also oversees the menu at Zephyr Grill's locations in Livermore and Brentwood. With winemaker's dinners such as these, Chef Jesus says he enjoys the "challenge of finding the flavors and dishes that pair with the wines."
One of the most versatile chefs in the area, Jesus enjoys regularly changing up the menu at all three restaurants he oversees, and owners Lynn and Randy Tei say "he does it all" — Italian cuisine, Chinese, American, French, Asian, and Mexican. For special events like the winemaker's dinners, "he does a fantastic job bringing out the complex wine notes with his dishes," Lynn said. A "foodie" at heart, when Jesus isn't working, he lovingly tends to his herb garden and fruit trees. Over the years, Chef Jesus has collaborated with several local wineries, including Bloomfield Vineyards, Petersen Vineyards, and McGrail Vineyards, to name a few.
$110.00 PER PERSON EXCLUSIVE OF 20% AUTO GRATUITY AND SALES TAX.
$22.00 – 20% Auto Gratuity
$13.53 – Sales Tax
$145.53 – GRAND TOTAL
EXCLUSIVE 5-COURSE DINNER MENU
FIRST: Gazpacho – red & yellow tomatoes, roasted poblano, cucumbers and almonds.
Topped with a cucumber sorbet and a sherry vinegar gastric.
Paired with 2022 Margo Rose
***************************************
SECOND: Ravioli – fresh pillows of pasta filled with braised short rib & creamed spinach.
Topped with a veal demi sauce & a pine nut parmesan relish. Drizzled with truffle oil.
Paired with 2021 Little Dog Carménère
***************************************
THIRD: Rack of Lamb – crusted with pumpkin seeds & fresh herbs.
Served with spinach tamale & a pasilla tomatillo sauce.
Paired with 2021 Casa de Viñas Carménère
***************************************
FOURTH: Filet Mignon – with a heirloom tomato salad, sweet corn & mushrooms.
Finished with a gorgonzola mousse & beef jus.
Paired with 2021 Insel Family Carménère
****************************************
FIFTH: Trio of Truffles – Basil Truffle, Parmesan Truffle & Sage Pancetta Brandy Truffle
Paired with 2020 Insel Family Carménère